Published : 02.04.2019
Soap, naturally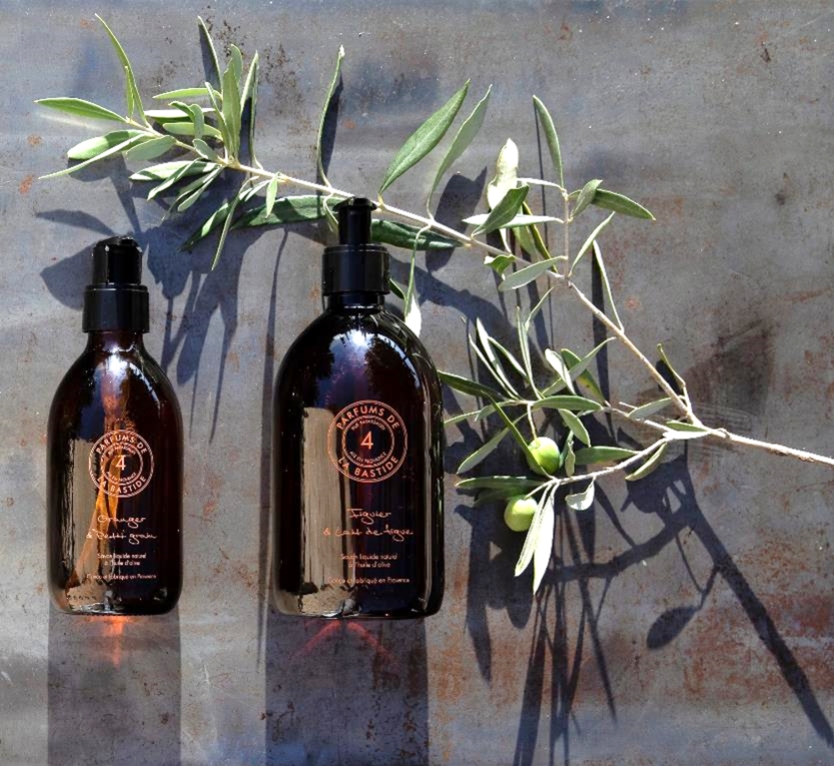 Why a refill for liquid soaps ?
We believe that everyone can play a little part in protecting the environment in the everyday life.
That's why we have decided to create our own refillable bottles for our liquid soaps, in accordance with our values and as an exclusivity at our shop: taking care of yourself and reducing the ecological impact.
Declined in our four scents, the refillable bottle allows you to keep even longer your pretty glass bottle containing your favorite liquid soap.

Do you know that?
Unlike usual beliefs, glass recycling is much more polluting than PET recycling. For this reason, according to our eco-friendly approach, we chose PET to design our refillable bottles of scented liquid soaps.
The green gold of Provence : olive oil
Cult product of Provence, the traditional liquid soap, washes and nourishes the skin. Naturally containing glycerine, olive oil softly cleanses and respects the most sensitive of skins. Unlike many stereotypes, the soap is very well tolerated by any skin type and much less aggressive and desydrating than a shower gel or a hand cleansing gel.
In our soaps, olive oil is the essential natural ingredient. Emblem of Provence used since the Middle Ages to elaborate the famous "Savon de Marseille", it has exquisite cosmetic virtues. Indeed, the oleic acid that it contains is very nourishing for the skin that becomes softer, more supple but also brighter.
Our formula
The saponification of our liquid soaps is made according to the traditional method "of Marseille", from olive oil and coprah, by a slow cooking in a stainless-steel cauldron. Our formula contains very few ingredients, with 98% of them that are natural, and conform to all pharmaceutical and environmental regulations. Moreover, it is naturally biodegradable for the environment as there are no synthetic surfactants, EDTA, BHT, Phtalate, PEG, Parabens.

Designed and made in Provence
We chose to work locally, with the best craftsmen of Provence, less than 170 km away from Aix.
Each of them is an expert In his domain - perfumer, candle master, soap master… - and knows how to sublimate our perfume concentrate in one cologne, a candle or a soap.
It is thanks to all these talented craftsmen that our perfumed ideas can become a reality, respecting a principled manufacturing.

Share this content